Jan
uary
5th, First day in College.
16th, First time taking bus.
26th, Celebrated CNY in Penang.
February
10th, First oral test in College.
14th, Worked at PAWS for HCM project.
March
3th, Had an accident D:
9th, Took in a pair of kittens.
13th, SPM was out.
15th, Celebrated the birthdays of the March babies.
17th, Got my P License.
21st, Kittens ran away to Heavan. T.T
April
4th, Kiwanis Hawaii Night.
17th, First semester ended.
20th, Visited Perth.
30th, Second semester started.
May
16th, Took in a pair of puppies!!
19th, Attended C2AGE.
30th, Finished the Rainbow Puffs.
June
15th, Celebrated Priya and Karyn's birthdays.
19th, Celebrated CerTong's birthday.
25th, First Dodge Ball match.
27th, Popcorn joined the angel kittens D:
July
7th, First victory in a Dodge Ball match.
August
1st, Had a small gathering at Cherng's house.
3rd, Got an Award for being a good blogger.
7th, Second semester ended.
15th, Got SE W995 Hikaru!!
27th, Final semester started.
31st, Started Japanese Course and Celebrated Lizzie's birthday.
September
26th, Celebrated Cleste and Kah Hee's belated birthdays.
October
1st Visited several offices for our MGT project.
12th First time interviewing someone.
14th Celebrated my birthday Tee and Dorothy join my family.
29th Dorothy decided to join the heavenly furballs.
November
2nd, Had our last presentation for the UFP.
26th, Final sem ended.
27th, Went to Cameron.
December
20th, Attended CF09.
25th, Celebrated Xmas with Vincy at Penang.
Photos of the months:
January
Orientation!
Bus ride~
February
Puppy from PAWS!!!!!
WenLeong the ex-birthday boy!
March
The March Babies' Birthday Party~
The meal before my driving test!
April
The pretty glass~
Ending of first semester!
A lovely tree from Perth!
May
Evil Muffin~
Timid Popcorn~
C2AGE!
The Rainbow Puffs!!
June
Green Day/Priya & Karyn's Birthday celebration!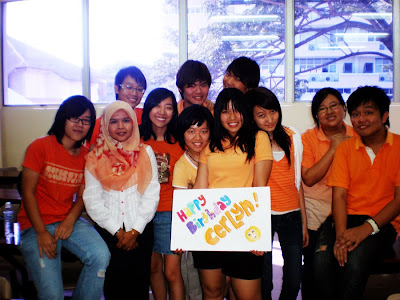 Oranges day/CerTong's Big Day~
July
Group photo!!

August
William, Fluffy, and Cherng.
Hikaru~
Birdie's Birthday Surprise!
September
Random Fluffy photo~
October
Preparations for our interview~
My Birthday Cake!
November
Office Ladies + Secretaries + Big Boss!!
End of Final semester and UFP!!
Cameron!!
December
Registered my bro and sis at Taman SEA!
CF09!!!!
Vincy and me~
A fruitful year with so many new experiences! ♥
Amazingly, the total post made in 2009 is the same as in 2008, 141 posts.