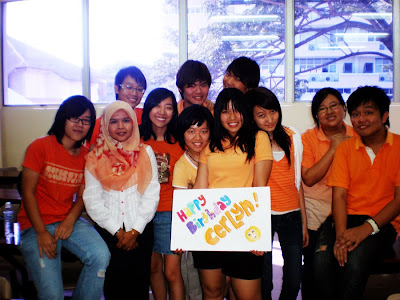 In case you didn't notice...
We're Oranges!!!!!!! XD
HAPPY BIRTHDAY CER!!!
Ah no, it was a coincidence that Ms. Hasmizah used an orange tudung... Eh, why is it I don't see Priya anywhere? Oh I remember now!! She's
NOT
orange!!! XP Naturally, she took the photo...
I love our background!! The scenary ouside the window is so pretty!! The shade and colour reminds me so much of 07 Ghost!! XD
Cer!! Scan your card!!! I spent my homework time working on it!!!! XD
Scarcity!!! Opportunity cost to study forgone to do your BIG card!
why does it has to be so big...? Even my sister helped colouring it...
Heez.
SueLing and Priya blasted the whole plan right in front of her face... No more surprise... So freaking disappointing.
It just happened like any normal Wednesday. The anticipation wasn't that great because Cerlyn KNEW!!! Gah.
Amy didn't even bother to cover up the card properly...
Birthday song burst only after Moral Studies ended like a squashed orange.
I really love our AK batch. It may be puny, not even bigger than a class of students back in Taman SEA (imagine that, that's how big the January intake is), but we feel like a family together!!!
LOL
Ms Malini noticed how united we are~~ And with love we stick together, we're invincible!!! XD
A lot is happening, but I feel so tired everyday that I couldn't bring myself to blog. Still, blogging clears my mind. It gets less cluttered and less stressed.
sometimes,
I just wish that
I have more time

Preferably 26 hours/7.